Nurturing Creativity Blog and Enzar Empire Press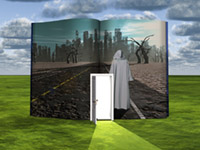 The first science fiction related post has just been published on Nurturing Creativity, the new fiction, poetry, and anything-at-all-creative blog from Energion Publications, our parent imprint.
Joseph G. Whelan, author of Day of the Dragon, talks about why he reads—and now writes—science fiction. While, perhaps. Check out his blog post to see what he prefers to call it.
If you are an independently or self-published science fiction or fantasy author, and would like to contribute to this new blog, we'd like to hear from you. We're interested in sharing our audience with you. A little bit of audience sharing can be good for you, for us as a publisher, for our authors, and for other authors who join in.